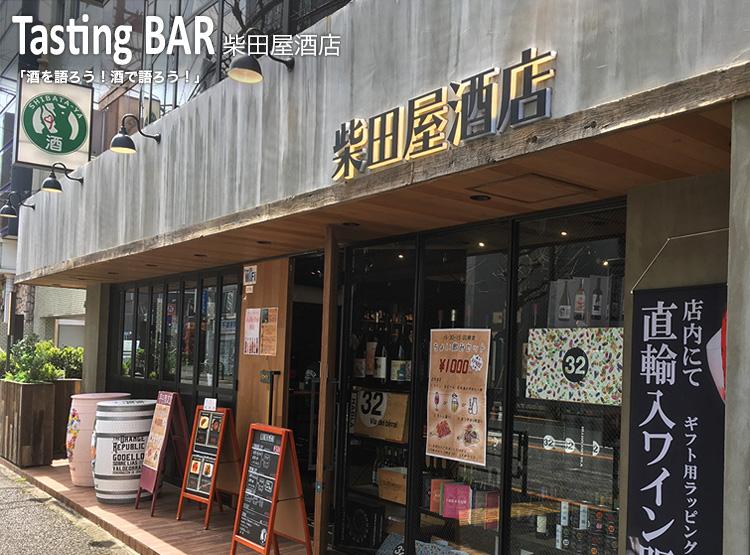 「Tasting bar Shibataya main shop」 is opened in June 2011 after an interval of 22 years.
An internet shopping is becoming main way recently, but we believe 「face-to-face selling」 is more communicable and more acceptable against the customer's demand.
We run toward being the professinal shop that is useful and is loved with the customers and neighbors to realize our ideology of 『Connecting the persons with a liquor, we make the people smile around the world』 under the concept of 「Talk about the drinks!Talk together with the drinks!」
The prosperousness of the clients
Tasting bar Shibataya always struggle as below things as a professional shop, and contribute to the prosperousness of the clients.
The professional shop doesn't only supply the commercials by a cheap price, that's why Shibataya can do many things.
We are aiming to be "only one", not No.1.
We recommend the suited commercials for your restaurant.

You can taste the commercials in the shop(free or pay).

You can reserve the commercials.

A suggestion of a vogue drink menu information(price, serving)

A suggestion how to drink and the pairing with the dishes.

There are enriched goods for the liquors
There is the useful information in Tasting bar Shibataya, you can use it from now on.
The shop Introductions
【Main shop】

How about 「Talk about the drinks!Talk together with the drinks!」 in an relaxed space has many liquors?There are around 1000 kinds of the selected wines, and around 100 kinds of the world craft beers, it can be taken home and also tasted at the bar counter. We sell some goods like glasses and cups, imported foods, too. We can wrap the liquors, please use it as a gift and for a souvenir ! To Taberogu >>

【Hatchobori shop】

The shop manager selected the good wines relative to its price as mainly as the wines of Bourgogne and Bordeaux.You can enjoy it by a reasonable price cause of a wholesaler. Please drop in on us.
We can wrap the liquors, please use it as a gift and for a souvenir ! To Taberogu >>
Access
Tasting BAR Main shop
Adress:5-3-11 Chuo, Nakano-ku, Tokyo, 164-0011, Japan
TEL:03-5342-5139
FAX:03-5342-5139

Tasting BAR Hatchobori shop
Adress:1 Chome-8-6, Hatchobori, Chuo-ku, Tokyo, 104-0032, Japan
TEL:03-6262-8399